We Have Moved
Ties that Bind has moved to a new home. Please follow this link: Ties That Bind

Turning  to Alaska, he pulled her close when she said she would marry him even here on the battlefield. "Then let us do that right now. There is nothing more for us to do here anyway. I much rather would use the time to finally make you my wife." He possessively growled into her ear and apparated away with her in his arms.

They re-appeared closer to the castle and Xanthos guided Alaska towards the Great Hall where the wounded were being tended to; not that he cared for them, but he knew that this was probably the best place to look for someone with the legal power to conduct a wedding. His dark eyes quickly spotted Anita Moore and Xanthos told Alaska to wait for him before walking over to the woman, bowing slightly. "Madam, I realize this can hardly be considered the best place or moment to ask such a thing from you, but my fiancée has finally agree to marry me and I'd rather not wait till she changes her mind again, so if you would do us the honour of conducting our wedding right now, we would be immensely grateful." He spoke politely, putting on his most charming expression. If that wouldn't work, he would have to go through the trouble of threatening some poor bastard at the Ministry into doing it for them and he'd rather not start his marriage that way.



House

:


Posts

: 137

Character sheet
Jobs: Occlumency Professor
Age: 21
Blood Status: Pureblood


Alaska was still shaken up and not entirely sure, if she understood what happened, but her humor did not leave her even now and she had to chuckle at his comment about changing her mind. She probably will change it, once the big danger is gone and she will no longer remember, what that fear felt like. At least she hoped she won't remember. And that she won't have to ever feel it again. Her hair turned from cold dark blue to bright red in split of a second.
_________________
hair colors:|pink|red|brown|green|blue|black|blonde|purple|ginger|combination|



House

:


Posts

: 232

Character sheet
Jobs: Student
Age: 18
Blood Status: Pureblood


Anita had stood with David for a while before she left him with his friends and girlfriend. She had since been moving around the castle, helping people get to the Great Hall if they needed to. She was taking a short breather when she heard someone approach her and she turned to face the young man. His request may have seemed odd if they were not all in the situation that they were. Smiling a little, as she turned fully to face the man, and she nodded, "in times like these, is it not understandable to want to do it? While you still can.." The last part of her words was more to herself, as she thought that if she had the chance, she would have done the same thing. "Where is your fiancée?" she asked, looking around but unable to pick which young woman he was speaking of, "It would be my pleasure to marry you both."
_________________
Signature:

Made by David
Moderator





House

:


Posts

: 112

Character sheet
Jobs: Searching
Age: 42/92
Blood Status: Halfblood


Rider walked into the great Hall, he was really worried, Larentia had come back but without his sister. He saw a glimpse of his older brother, the two wolves following him close behind and walked up to him, he was busy talking with a woman, so Rider slowly moved to stand next to Xanthos, he moved closer to his brother's ear, leaning his chin on Xanthos' shoulder. "Hey brother, nice to see you are still alive. What's going on?" Rider asked curiously. he hadn't heard what the woman was talking about.



House

:


Posts

: 38

Character sheet
Jobs:
Age: 21
Blood Status: Pureblood


Xanthos smirked slightly, pleased with himself for picking the right person to go along with his slightly unusual plan of marrying someone on the battlefield, surrounded by wounded, dying and dead people of both sides, but for him it just added to the perfect atmosphere he wanted for his wedding. Not even his beloved sister could have planned it any better than this and she usually was quite creative if she put her mind to it.

When the older woman asked after his fiancée, he turned and motioned for Alaska to come closer, so he could introduce both women. "Alaska Greengrass, my fiancée. And my name is Xanthos Gamp." He inclined his head slightly in greeting and was about to thank her for agreeing to help them out when his younger brother appeared at his side. "You didn't truly think that I would allow any of these idiots to kill me?" Xanthos gave back smirking, though he was relieved to see his sibling safe as well. His dark eyes narrowed and he looked over his shoulder.
 
"Rider?" he growled, his voice taking on a threatening tone. "Where is Dahlia?" It was rare to see his siblings not joined at the hip and although both of their wolves were present, there was no sign of his sister and that worried him more than he would admit. He had not seen them during the battle, choosing to fight next to Alaska while Rider and Dahlia fought together. Xanthos knew that his siblings could handle themselves and he expected Rider to take care of his sibling, but he still felt uneasy not knowing where his sister was.



House

:


Posts

: 137

Character sheet
Jobs: Occlumency Professor
Age: 21
Blood Status: Pureblood


Dahlia was tending to her own wounds, scratches along her body as a wall had fallen on top of her. It was a strange moment where a pack of wolves, not the ones connected to Larentia and Mahlek, had saved her by scraping at the rocks until someone removed them. Luckily, nothing was broken and Dahlia immediately went into defence. She took her time seeing her brothers for her heart felt a great loss. Zephyr was amongst the dead and she had not been given the chance to say goodbye. 

Finding her brothers at last in the great hall, Dahlia stood there for a short moment with her wet hair dangling in front of her face, her clothes torn with patches of blood that was both hers and her victims and she settled her gaze upon Rider, scanning him before moving to Xanthos only to see him with Anita and Alaska. Realization flickered across her expression and she wandered close to them, her appearance announced by Larentia barking out in joy. ''Hush, girl.'' She murmured to the wolf before looking up at her oldest brother with a grin, forced but still a grin. ''Did ya miss me, dear brother or do you miss my cookies?''



House

:


Posts

: 196

Character sheet
Jobs: Student
Age: 19
Blood Status: Pureblood


Michael slowly found his way to his siblings. He was injured, that much he knew. But over the pain, he could hardly tell anything, but that it was bad. "Good thing you miss everyone but me, I guess," he teased in croaked voice. "Bloody wedding, brother? Sounds better, than my Vegas one," he laughed weakly.


Alaska turned around with concern to see both missing members of her future family. She alredy lived with them for years, but they barely knew each other. Alaska wasn't family type and her own family members weren't people to hang out with, so she never really had much of an interaction with them. She only felt like Dahlia doesn't like her much, but that was it. Yet she could not help but feel worried, specialy about Michael.
_________________
hair colors:|pink|red|brown|green|blue|black|blonde|purple|ginger|combination|



House

:


Posts

: 232

Character sheet
Jobs: Student
Age: 18
Blood Status: Pureblood


As soon as Dahlia entered the hall, Xanthos felt her presence and sought her out with his dark eyes, relaxing his stance slightly now that she was here as well. His sister looked somewhat worse for wear, but still, she was healthy and alive. That was all that counted for now. When she arrived next to him, Xanthos put on an innocent expression, well ... as far as he was capable of such a thing. "Dahlia, I might be a little sad should you die, but without your cookies I could not survive!" he told her, trying to sound utterly serious, though his eyes were glinting with amusement.

Xanthos chuckled when his older brother joined him, though his eyes quickly glanced over him to judge how badly he was injured. "You know I like to outdo you in everything I do, my dear brother, and unlike you, I have style." he gave back in a slightly teasing tone before pulling him aside. "You need to get help, Michael. You look awful which means you're off even worse." Xanthos knew that his older brother would try not to show how badly he really was hurt, so seeing him like this worried Xanthos more than he cared to admit.



House

:


Posts

: 137

Character sheet
Jobs: Occlumency Professor
Age: 21
Blood Status: Pureblood


Michael chuckled slightly as he heard his brother telling him, what he alredy knew. "I know, little brother. I suspect that piece of metal going through my body has something to do with it," he replied with slight sarcasm. "I can hold for little longer. Long enough for you to finally marry that stubborn chick over there. But after that, I have favor to ask," he said, his voice now more like husky whisper, getting weaker and weaker. "Contact Gaunt twins. I cannot go to hospital in UK, I might as well wake up in Azkaban. They will take me to Czechia, we have Traveller blood, we might as well use that connection and they will take care of me there," he explained. "And take care of them, okay?" he looked at Rider and Dahlia and even Alaska, who seemed to be only one genuinely concerned. Probably because she wasn't proper Gamp yet.
_________________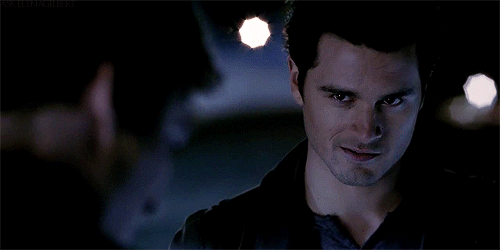 House

:


Posts

: 185

Character sheet
Jobs: Azkaban Inmate
Age: 43
Blood Status: Pureblood



---
Permissions in this forum:
You
cannot
reply to topics in this forum