We Have Moved
Ties that Bind has moved to a new home. Please follow this link: Ties That Bind

Chaos surrounded her though she barely noticed as witches and wizards young and old were rushed to healers or into tents to rest. "Did you see what happened to weasley?" she heard two boys talking and her heart sank "bill" she whispered beofre rushing through the city of tents towards the old weasley tent she knew so well. She made to push her way in when his brothers fred and george picked her up "sorry Dorie Dora" they chimed "Bill said he doesnt want to see you" "what!?" she all but shrieked, kicking and shoving she gave up and went limp, taking her silence as surrender the twins let her go and she rushed in "Bill?" she rushed to his bedside falling to her knees. half his face waa so muitilated.She felt sick with worry for him and took his hand gently.
He hadn't been expecting it, the stealthy attack from the creeping animal. There had been more of a problem getting everyone out than they had hoped for, and everybody had been needed to defend the younger witches and wizards. So far there didn't seem to be any fatalities. The healers who had come with them, helping the injured out, where more busy with those than many new injuries. How he had managed to have been clawed across his face and had teeth mangle his neck without anybody noticing he had no clue. It had been luck that someone had managed to get the beast away from him, but now he was holed up in the tent, unable to get up just yet- per healers orders.

As per his own orders, there was one particular person who he had asked not to see. While he would have preferred to not be seen by anybody, he had firmly told his brother to keep Nymphadora Tonks away from him. But she, of course, had different ideas. He was conscious, though his blood was still replenishing and his head hurt like crazy, when he heard a short scuffle at the door and then Tonks' worried tone reached his ears and he frowned. "No," he said, lightly shaking his head, tugging his hand from hers, "I told them not to let you in. You need to go. Now."
_________________
Older Bill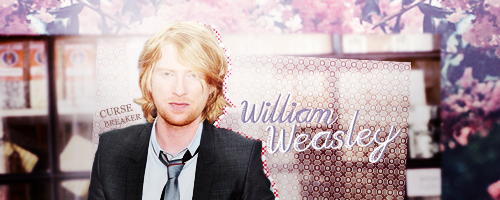 Signature and avatar by ReeBee@TDA.
"William" she said with alarm "No bill, billy dont stop its only me only your dora, your nymphadora" she cooed trying to sooth him "Why wouldnt you want to see me? Bill lay back..you need rest." she tried to push him down and frowned at his reaction.
My Nymphadora, he thought, allowing her to push him back down, and he kept tightlipped for a moment as he allowed her words to sink in. He didn't want to see her for a lot of reasons, but mostly he didn't want for her to see him. Not like this. He was already told that they hadn't been able to get the silver and dittany to his wounds fast enough. What that would mean, they couldn't tell until he was healed enough for a proper exam. And he knew that Nymphadora Tonks deserved better than a mangled animal. So much better. "I am rested," he said stubbornly, glad that he could now talk without the gurgling of blood in his throat, "I rested while we were at Shell Cottage, remember?" He was stalling his answer, and he knew that she would know it, so he let out a breath and said quietly, "I want to see you. So badly. But look at me, Tonks. Why would you want to see me?"
_________________
Older Bill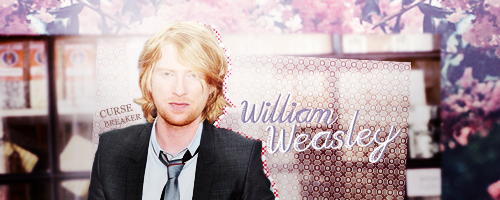 Signature and avatar by ReeBee@TDA.
"what do you mean?" she said brow wrinkled with conf usion "iif you thought a little death eater attack and a few scars would make me run from you, your gonna have to try harder then that."
Bill sighed and rolled his eyes, trying not to get frustrated. He knew that she was just trying to keep it light, but it wasn't. "It wasn't just a little Death Eater attack, Tonks," he said, "it was Fenrir fucking Greyback. Apparently I'm not even his first victim 'today'. I wish I could find him now, but I can't. But this could be permanent. Of course, the scars will be, but we don't know about the whole werewolf thing yet." He didn't want to be harsh with her, so he kept his tone even. She was being there for him, even if he didn't want her to be. He would have forced himself on her had their situation been reversed. Not to mention the fact that he couldn't deny how much better he felt with her around.
_________________
Older Bill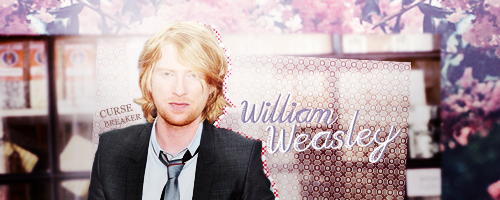 Signature and avatar by ReeBee@TDA.
She reached out to him again frowning, "So what?" she said incredulously "so what if your a wee little wolf and a little snappy at the full moons. I spend a week where i get snappy and you still care for me"
Bill shook his head half heartedly letting it fall back onto the pillow as his eyes closed. She was impossible and although he wanted her to leave, he knew that he couldn't bring himself to ask her to again. "You're hilarious, Tonks," he muttered, turning his head to face her and opening his eyes again, "absolutely hilarious."
_________________
Older Bill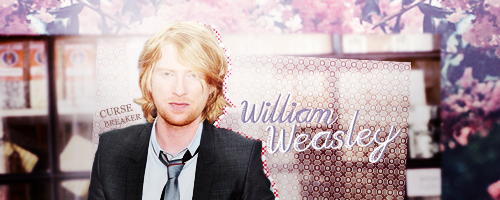 Signature and avatar by ReeBee@TDA.
When he closed his eyes she took steps towards him touching the stiched up wounds on his face and shoulder. "Bill" she whispered softly as her fingers grazed the wound "Im so sorry..i wish..i could take it away..." she felt a tear leave her eye but she brushed it away in frustration. "No. you wont be sending me away. keep trying but i will follow you like your own shadow if i have too."
"I know I won't," he said, his tone a bit lighter than it had been. He had wanted her gone, but just her presence was helping him. Besides, things were messed up now no matter what someone did. Sending her away wouldn't be making her any safer. "It'll be fine," he added, slowly pushing himself up into a sitting position. She would protest, and perhaps even try and push him back onto the bed. But he was getting up, because there was too much to deal with. "I'm going to find a healer," he told Tonks, "I'll be back soon, I swear. I'm pretty sure a few spells and potions will sort this out now that I'm coherent."
_________________
Older Bill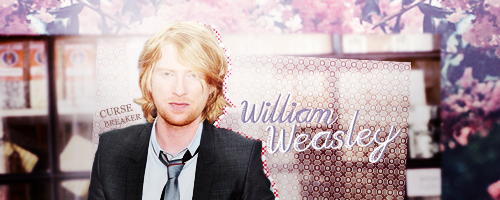 Signature and avatar by ReeBee@TDA.

---
Permissions in this forum:
You
cannot
reply to topics in this forum