We Have Moved
Ties that Bind has moved to a new home. Please follow this link: Ties That Bind

Marvolo walked up the long path along the rivers edge to Dellen's home. She looked down at the water and saw laying on the grass was the gryffindor she was looking to visit. "Mira" she said.

The girl sat up and smiled, waving to her Marvolo slid down the hill and sat next to her. "I came to check on you" she said with a smile "Gran told me the treatments are hruting you.

Marking her place in the book she was reading she placed it next to her on the grass. "Its rough yes but worth it, I remember almost everything, but I haven't forgotten that you helped me, thank you for bringing Sirius back to me and hunting me down in the first place"

Marvolo nodded the missing girl looked so much healthier and happier since she had returned to the magical world "I'm glad to have helped I couldn't beleive it when I saw you practicing on the school lawn that there you had been hiding with muggles."

Mira laughed and shook her head she shoved Marvolo play fully and opened her mouth to tease her when she froze, her eyes dialated and she gasped "Your pregnant!?" she said touching Marvolo's stomach.

Shying away from her marvolo whimpered "don't tell him..."

Mira's eyes widened and she nodded as the pieces fell together "sirius is the father..."

Marvolo looked away in shame she had forgotten Mira was a seer..

"I wont tell him" Mira said softly embracing her "I understand why you don't want to...I see what happens if you do.."

"Take care of him.." Marvolo said returning the hug tears in her eyes. Mira hugged her tighter "I will...just like you took care of him"

Pulling away Mira looked at her square in the eye "We are not so different Marvolo we are just on two different battle lines"

Marvolo smiled weakly, silence fell between them and they laid there watching the river.

Suddenly Mira turned to her, eyes black as coal her hands on Marvolo's stomach she said "..He will be the king of demons.."
_________________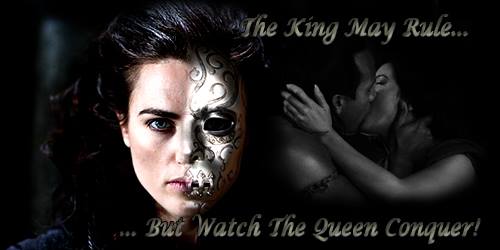 Founder/Head Admin





House

:


Posts

: 2068

Character sheet
Jobs: Unspeakable
Age: 84
Blood Status: Pureblood




Similar topics
---
Permissions in this forum:
You
cannot
reply to topics in this forum