About The Page
Important links!
-Plot
Informational links:
Page 2 of 2 •

1, 2
Her eyes widened as he took a step towards her "Don't come near me.." she said struggling to stand.
Founder/Head Admin





Posts

: 2068

Character sheet
Jobs: Unspeakable
Age: 84
Blood Status: Pureblood


Sirius ignored Marvolo's voice, as if he didn't hear it. He got next to her, and looked down. "That wasn't my fault." He was able to let out. He couldn't cry, and he couldn't smile. He was simply stupefied by the situation. "Let me help..." He said, trying to help Marvolo get to her feet. He didn't care if she pushed him away. He wanted to help. Now, he really did want to.
"don't touch me!" she screeched as she tried to shove him away from her she fell over and whimpered in pain..she coughed and more blood came up. "do..don't touch me.." she said as she felt herself losing unconciousness "do..dont...hurt..me..." she managed to say as life faded to black.
_________________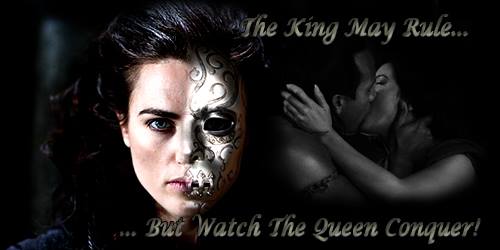 Founder/Head Admin





House

:


Posts

: 2068

Character sheet
Jobs: Unspeakable
Age: 84
Blood Status: Pureblood


"I'm not gonna hurt you." Sirius got on one knee, and slipped Marvolo into his arms. She could kick, scream, whatever. He was helping. Whatever she wanted or not. "Luna, take my things and Marvolo's back please." He pleaded, not facing her. He looked down on the girl on his arms, and slowly, step by step, started to walk away.
Luna watched the sword stab Marvolo and she shook her hand causing the hidden blade to pop out. She gets in a fighting stance and stares at Sirius only to see the green flash in his eyes and her brows furrow in confusion. He didn't mean to do it...Shit! What's going on now?! She thinks to herself and hears Marvolo's pleads, she puts the blade back in the gauntlet and goes to Marvolo. ''Let him help...I can't carry you and our things to the hospital. I will help...Just let him do this Marvolo. I will talk with him after you are healed.'' She whispers into her ear. She rushes to grab their bags and places them on her shoulder. She hears the plead in Sirius' voice which confirmed everything. He didn't mean to do it. She watched as they started to walk away with tears filling her midnight blue eyes. She followed silently looking only at the back of Sirius' head as if trying to figure out what's going on.
_________________



House

:


Posts

: 1529

Character sheet
Jobs:
Age: 27
Blood Status: Pureblood


Page 2 of 2 •

1, 2

Similar topics
---
Permissions in this forum:
You
cannot
reply to topics in this forum