We Have Moved
Ties that Bind has moved to a new home. Please follow this link: Ties That Bind

Ever since a little child, Morana was master of sneaking in the dark. Lately, with her vampire reflexes and raven animagi form, things got so much easier. It was therefore incredibly easy to sneak into the campgrounds once the protective walls no longer registered her presence. She was ally after all. And she knew it. But in the same time, Morana Gaunt thought ahead. Way ahead. She knew that the moment Voldemort is gone, she will need a lot of help to make sure it will be her and her sister holding power. And she felt no remorse making sure of that. Sneaking into the tent of young Lavender Brown, she looked at the innocent face of a girl, who was soon to be under her influence. If she was younger, she might regret her future actions. But that Morana was gone. Without a single emotion, feeling absolutely nothing, Morana casted Imperio on the girl, forcing her to follow into the deep dark woods. She knew the girl will likely put up a fight, that she will likely be quite conscios and aware of what was going on. But she also knew that she could not fight the curse. Not casted by her hand anyway. "Hello Lavender, my name is Morana. And we will have so much fun together," she told her with her killer sweet smile.
_________________
Traveller clothes:
Wedding dress and Engagement ring:
Lavender felt herself rousing from her sleep, and she tried to force her eyes to stay closed. She didn't want to wake up yet, besides it had to be still the middle of the night. But her eyes opened anyway and she swung her legs to hang over the side of the bed. Rubbing at her eyes, she stood and it wasn't until she was slipping from her tent that she realised that she didn't actually want to leave. But her legs were moving and even has she consciously tried to keep them still, she carried her out into the woods.

It was dark, but of course Lavender could see just fine. Her step faltered as she tried to stop herself from walking once more, but what she soon recognised to be the Imperius Curse was still well in control. She had fought it off before, but this was stronger than the practice drills that they had run with the Order and Dumbledore's Army. Not necessarily because this person was stronger, though she very much suspected that they were, but because nobody had genuinely wanted to control her before.

A woman came into view as she moved deeper into the forest and Lavender glared as she spoke. "What the hell are you doing?" she asked her, not caring in the slightest about what this woman was capable of. She knew of the Gaunts, but Lavender had never been one to not fight back.



House

:


Posts

: 76

Character sheet
Jobs: Student
Age: 27/77
Blood Status: Pureblood


Morana found it sweet. The poor girl hoping she will get out of it. "Don't bother protesting my dear. You won't snap out of this curse, you won't scream and you will follow me where I will take you. And then... well, you will forget the way. But don't worry, all the pain... it will be worth it. At the end, you will see things the right way," she cupped her cheek, her voice payful. Morana loved having power over people. She loved showing her abilities. But she was also very careful with it. People could not see the power she really had. It could always turn against her. "There is darkness in your heart. Maybe it's the wolf in you, maybe it was always there, but don't you worry child, hell's got plans for you," she whispered to her.
_________________
Traveller clothes:
Wedding dress and Engagement ring:
Marvolo stood outside the girl's tent her sword drawn and ready for trouble. She stood in the shadows waiting for her sister, her silver mask in place, her heavy black cloaks concealing her from the world. She hid her problems from her mind, her husband missing, her son and grandson gone from sight. Tonight she was Marvolo Gaunt, not Marvolo Black, not Marvolo Carrow, those women were dead and she was a Gaunt now, she was the cold wind that chills the bones and she was ready to inflict pure terror into the hearts of others.
_________________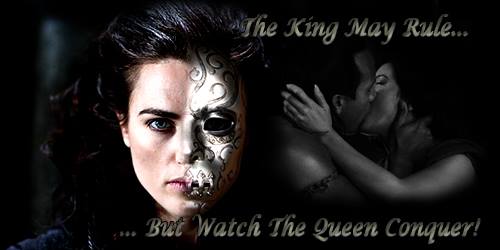 Founder/Head Admin





House

:


Posts

: 2068

Character sheet
Jobs: Unspeakable
Age: 84
Blood Status: Pureblood


Lavender had no intention on silently following the woman who was quite obviously insane. While she couldn't scream or call for help, as the woman had ordered her not to, she continued to speak. "I think it's rather cowardly of you," she said as she remained wherever the woman wished her to be, "using an unforgivable on a girl who is barely an adult as she slept in her bed. Are your children proud to call you their mother?" Morana was right. Lavender had seen the new darkness in herself a number of times, but are fought daily to keep it at bay. She wouldn't let some old lady ruin what she had tried so hard to keep together without a solid resistance.



House

:


Posts

: 76

Character sheet
Jobs: Student
Age: 27/77
Blood Status: Pureblood


Morana heard so many insults in her life, she could hardly feel the pain they caused anymore. "One day, you will learn that some things need to be done. Ugly or not, unfair or not, it's what it is. And you, my dear, will help us get the throne. You can cry, beg, insult us, hurt me all you want, but right now, all you can do is walk out of this place and follow me," she said, making it perfectly clear that there was no way out of the situation, she led the way out of the tent. "And you shall do yo absolutely silently," she added, just to make sure instructions were clear. "We are ready sister," she said towards Marvolo as she felt the girl safely captured in the curse.
_________________
Traveller clothes:
Wedding dress and Engagement ring:
The girl walked toward her, driven by the curse, forcing her to move. Silently Marvolo stepped in front of her and took the girl by the arm, her hand a vice like grip as it held her tightly. "Say your prayers" she rasped, before she took Morana's arm and with a snap the three apparated to the land outside the tower.
_________________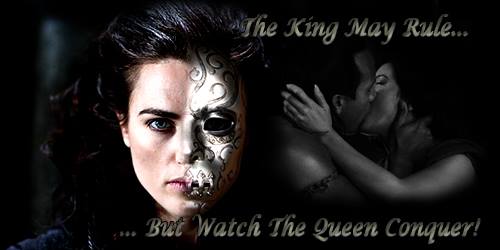 Founder/Head Admin





House

:


Posts

: 2068

Character sheet
Jobs: Unspeakable
Age: 84
Blood Status: Pureblood




Similar topics
---
Permissions in this forum:
You
cannot
reply to topics in this forum