About The Page
Important links!
-Plot
Informational links:
The year was almost over, days were long now, lake was warm just like the air. Alaska was in her normal clothes, just simple jeans, torn at places, with simple green shirt. She took of her shoes and socks before stepping into the water, but didn't really bother to roll up her jeans, which were now soaking wet, as she stood in the water, throwing rocks into nowhere. Just a few weeks left until it was time to go home. Her new home with Xanthos Gamp and his psychotic family. She still found it hysterical. And scary. But she didn't panic anymore. There was nothing she could do about it. And he was actually quite nice to her.

In shadow of recent events, her issues seemed stupid and not worth mentioning anywhere. Sudden deaths, mysterious disappearings and she could feel in her bones, that it was not over yet. Sunset was way too red for it. She couldn't tell why it was. Many people blamed it on Wolfclaw. And there was no doubt students and teachers from that place were capable of terrible things. But there was something else in the air. Something, that had nothing to do with mysterious school. Feeling familiar presence behind her, she decided to speak up. "How was Dumbledore's speech about your beloved?" she asked towards Bill
_________________
hair colors:|pink|red|brown|green|blue|black|blonde|purple|ginger|combination|
Bill walked. Almost every day he would walk, always the same route, and always ending up at the lake. Every day he would try and come up with the courage to knock on the door of the ground keeper's hut. And every day he was left wondering how he ended up in Gryffindor. But he would linger, just for a few minutes in the hope of seeing the little boy who had inbedded himself in Bill's heart. He was always disappointed.

There was somebody standing by the lake, seemingly in thought. He approached her, but before he could say anything, she spoke first. He wondered how she knew that it was him, but didnt ask. "I wouldn't know," he answered, stepping up to her side, "I couldn't stomach being there. I'm pretty sure that my sister was starting to notice my absences from meal times, so I was thankful to hear that her death had been addressed.." He tugged on his sleeve, glancing at the Ravenclaw's face for a moment, before asking, "what's on your mind?"
_________________
Older Bill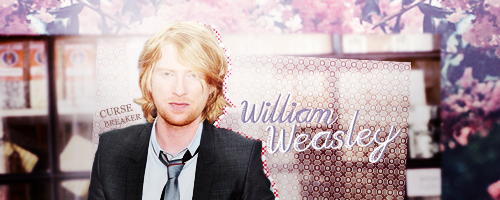 Signature and avatar by ReeBee@TDA.
Moderator





House

:


Posts

: 289

Character sheet
Jobs: -
Age: 30/80
Blood Status: Pureblood


His words created bitter smirk across Alaska's lips. "Just life, I guess," she replied, almost dreamily. "Everything seems somehow darker lately. Take from the girl who spent last years sleeping on the streets, I don't think all this crap is over just yet," she added, sighing as she glanced at her engagement ring. That thing was way too heavy sometimes. "Maybe she knew. Misha I mean... maybe she knew. And also all the other missing people," Alaska was now talking more towards sun, hiding partly behind the horizon. "I used to dream about this place, about famous Hogwarts, heaven for young witches and wizards. I believe it's time to admit I am slightly disappointed."

"I saw Hannibal couple of days ago," she spoke again after few seconds of silence. "He seems okay. He is still young. There is a chance he won't remember," she added. It was cruel in a way, to hope that the child will forget his mother, his almost father, the life he once had. But it was more cruel to people who will remember.
_________________
hair colors:|pink|red|brown|green|blue|black|blonde|purple|ginger|combination|
Bill nodded his head, thinking of how unfair life could be. While he had lost his first love, albeit after they broke up, he knew that many people has lost more. He though of even Alaska, the surprisingly sweet girl who had gone out of her way to spare him the embarrassment of breaking down in front of the entire Seventh Year. She had been through some kind of hell, he could feel it, but she still smiled. Not always, but when these things were happening, what was to be expected, but she did. "I totally agree with that," he replied, frowning out at the water, "though, I hope that all of these missing students return soon.. my brothers are gone, too." Somehow, Bill had managed to block out the fear that he felt for his lost siblings, but after saying to aloud, he could already feel the worry eating away at him.

The Gryffindor looked at Alaska, a look of obvious defeat on his face. She was right, and he knew it. "I shouldn't try and see him, should I?" Bill asked, though he knew that answer. It was better to let that poor little boy forget him then try and be in his life. Let him have as normal a life as the grandson of Armen Salander could have, and leave him be. All that Bill wanted was to just see him, even from afar. "Where was he?"
_________________
Older Bill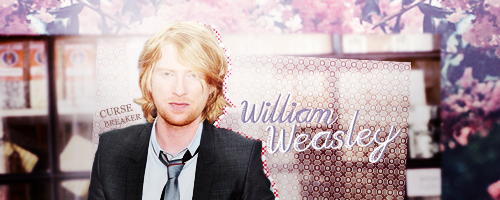 Signature and avatar by ReeBee@TDA.
Moderator





House

:


Posts

: 289

Character sheet
Jobs: -
Age: 30/80
Blood Status: Pureblood


"Sorry to hear that," Alaska replied. She could tell him more, but she was pretty sure it more cause more damage, then it would help. She knew how crappy life can get. And she was not interrested in giving people false hopes, like they did to her. She was no seer, she couldn't tell him it's gonna be okay. Because it was highly possible it won't. "Answer to that question is something, you should figure out for yourself. If Salanders were normal family, I would say yes. But then again, as a future Gamp..." she waved her left hand with engagement ring on it "...I know stuff. I doubt I know everything, but what I know is enough. And I assume you were the light in the boy's life. But then again, as much as it's not your fault, his mother died, he will one day be a child. Disgustingly honest, not really understanding child. And he might blame you. Can you bare it? Think of yourself too. He has his grandfather. What will you have in that circle?" she asked him. 

"He was out, playing with some old doll. I suppose it used to be Misha's. His grandfather was watching him. Hannibal was pretty much quiet, but he smiled couple of times. Or I think he did," she said and threw another rock into the water. Staring at her own reflection in the lake. "You should go somewhere by the sea this summer. Nothing calms better the storm in ones mind, than sea."
_________________
hair colors:|pink|red|brown|green|blue|black|blonde|purple|ginger|combination|

Similar topics
---
Permissions in this forum:
You
cannot
reply to topics in this forum