We Have Moved
Ties that Bind has moved to a new home. Please follow this link: Ties That Bind
Page 2 of 2 •

1, 2

Avalon grinned. If there was any other person she'd like to have seen dead it would be the skank who stole her father away. She was also glad that the twins would be coming along with her. They could keep her in line, not that she was afraid...
Vixen was fuming after having to write yet another paper for yet another class that she didn't care for. Her mood must have been radiating off her like heat off sand in the desert because as she walked down the hall in the dungeon leading to the Common Room, the Slytherins lingering there simply parted and didn't say a word to her. Normally, she wouldn't care, but today, she was glad no one spoke to her. Vixen was simply not in the mood to deal with any more stupidity than she had already dealt with.

Upon entering the Common Room, her mood brightened significantly as she spotted Avalon and the Gaunt sisters. "Greetings, chickies," she purred, throwing her pack in one of her favorite armchairs. She stood and crossed her arms, taking her normal stance with her hip popped to the side. "What's the word?" Vixen asked with a normal coy grin touching her lips.



Posts

: 276

Character sheet
Jobs:
Age:
Blood Status: Pureblood


Morana smiled as she saw Vixen in common room. "Well hello lady Lestrange! I missed you!" she greeted her friend she saw for the first time since she came back from her honeymoon. She was glad to see some familiar faces after the whole month. Not that company of her husband wasn't enough, in fact she would love to have him here, by her side even now, but it was nice to see her sister and friends again. She couldn't wait to see Remus and Rabs as well.
_________________
Traveller clothes:
Wedding dress and Engagement ring:



House

:


Posts

: 1258

Character sheet
Jobs:
Age: 28/95
Blood Status: Pureblood


Marvolo smiled at Vixen's appearence "Dear vixen it appears we are going to help this little first year but first she must kill her father" she said with a smirk.
_________________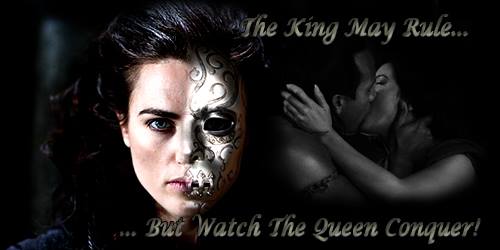 Founder/Head Admin





House

:


Posts

: 2068

Character sheet
Jobs: Unspeakable
Age: 84
Blood Status: Pureblood


Avalon nodded. she didn't know Vixen very well, but when she really thought about it, she didn't know Marvolo or Morana very well either. Most of her knowledge of all three of them was based on rumors, most of which she didn't believe. She kept quiet, realizing that it was probably the best choice in that situation.
Vixen tipped her head to Morana, "Welcome home, Mrs. Gaunt-Crouch. I've missed you as well!" She smiled brightly as her friend who had been missing and, hopefully, enjoying being a married woman, no matter how young she was. Her dark eyes then found Marvolo. She winked as she noticed that her magic was still doing the job on her swollen baby-belly. "Really, now?" she asked, raising a dark eyebrow at hearing that Avalon needed to take her father's life before they were to help her. "That certainly sounds interesting..." she said moving to the armchair she threw her pack in and, pushing it to the floor, sat in it sideways, her back against one armrest and her legs over the other.



House

:


Posts

: 276

Character sheet
Jobs:
Age:
Blood Status: Pureblood


Morana laughed. "I am still getting used to it. It's strange to be married, you know?" she said happily, her eyes showing how much she loved Barty. "And yes, I think we will have quite fun," she added to the topic about killing. She herself saw potential in young Avalon. She was maybe halfblood, but determination in her eyes was clear just as the darkness of the young snake's heart. And Morana liked that.
_________________
Traveller clothes:
Wedding dress and Engagement ring:



House

:


Posts

: 1258

Character sheet
Jobs:
Age: 28/95
Blood Status: Pureblood


Page 2 of 2 •

1, 2


Similar topics
---
Permissions in this forum:
You
cannot
reply to topics in this forum